This is where I share 3 things every week with my friends and anyone else interested.
—
Announcement: I wrote a new essay called "Single-serving friends" to highlight the benefit of "single-serving" relationships and safe spaces in general. It seems to have struck a chord (~600 views in just a few days, which is more momentum than average). If you like it, share it with a few friends.
A picture from my life:
Here's blurry me at my friend Ben's compound in East Palo Alto performing standup this past weekend. Ben's made maximum use of the land he got. Not only is there the performance space pictured here but also an aquaponic greenhouse growing lettuce fertilized by fish poo, former kombucha brewing stations now turning into an operation to make cheap insulin, a workshop space for van upgrades, etc. I'm a city dweller with no survial skills who can't (and don't really want to) make anything with my hands but it was awesome to see what Ben's been able to do. The best part was the community he brought together for the open mic. There were kids, parents, and grandparents. Immigrants and current students. People who came up from San Jose, down from the city, and neighbors in EPA. I loved it!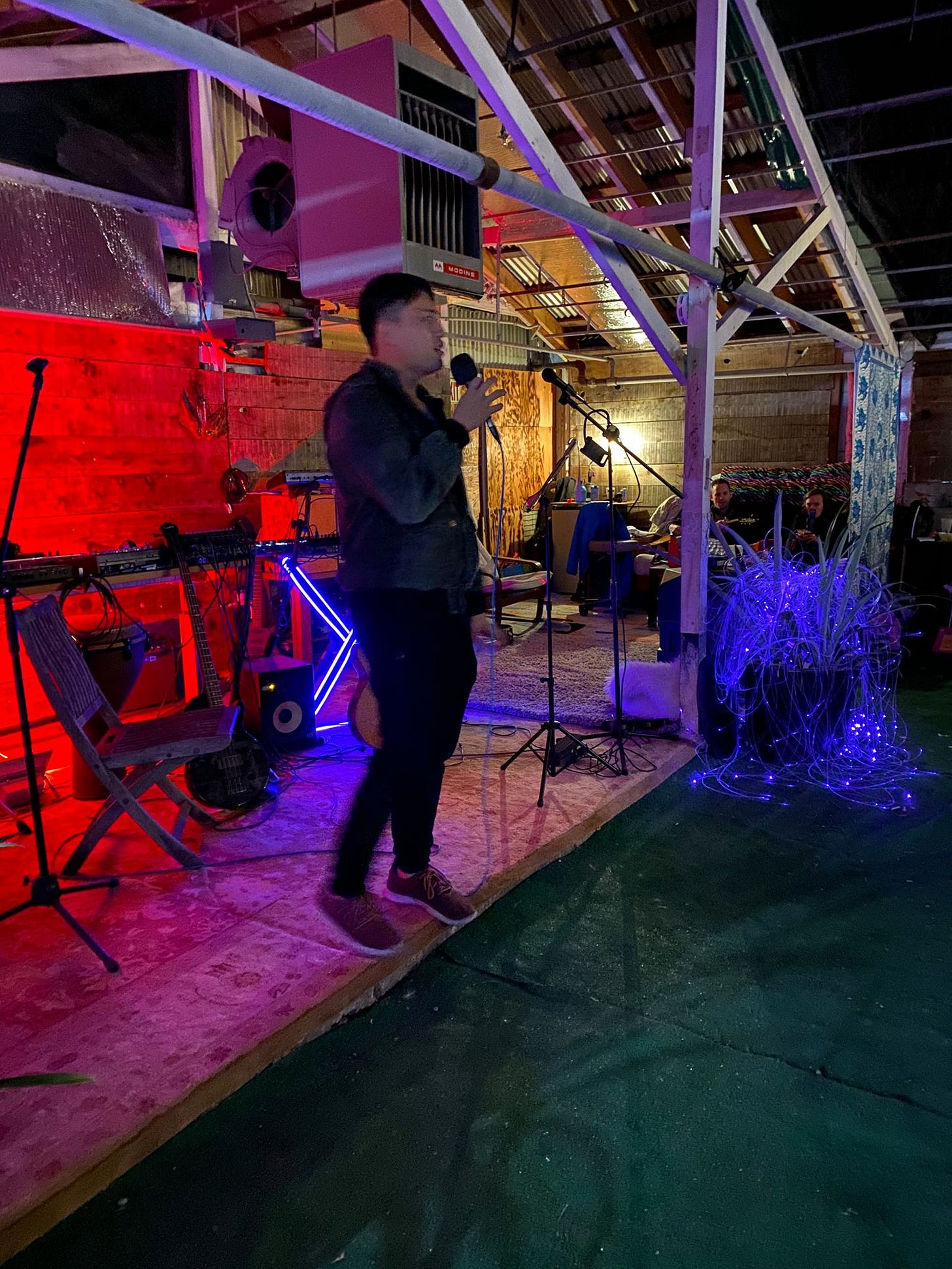 Thing on my mind:
The last few days I've been doing some quarterly planning following Taylor Pearson's Antifragile Planning technique (I started doing this in the middle of February that's why Q4 for me is right now…). By the end of my Q4 I would be at the one-year mark of my time off. The plans I set for myself have to be even more deliberate and results-oriented as I transition back into startup founder mode.
I'm thinking about how to set up a system to make sure that I'm operate at my best as a startup founder. Having seen the benefits of writing this newsletter in clarifying my thinking, I definitely will change how I send company updates to my investors. I feel like I have always underutilized my investors' enthusiasm for what I'm building. Having reflected on the importance of "seeing clearly" while in the startup trenches, I need to figure out how to forge a relationship with a few individuals who I really, really trust, enough to let them help me see what I need to see. Kind of like a personal board of advisors whose vested interest are in me and me only. I know I need to be better about surrendering and allowing people to help me. I got the idea of "surrendering" from a book my friend Michael recommended called Mastery by George Leonard. the author breaks down the process of mastery to five components: Instruction, Practice, Surrender, Intentionality, and The Edge. A useful frameworks and a quick read.
Piece of content I recommend:
I fell down the YouTube rabbit hole of re-watching a bunch of Billy On The Street clips and found this video of Billy and Keegan Michael-Key making fun of our gun control policies. It's brilliantly done and has 150k views so you likely haven't seen it!
—
As always, you can find out what I'm thinking in more real-time on Twitter and my essays are on my website. My latest essay is called "Single-serving friends"