This is where I share 3 things every week with my friends and anyone else interested.
—
A picture from my life:
Just watched Westworld season premiere with David and Yosh. Amazing start to the season!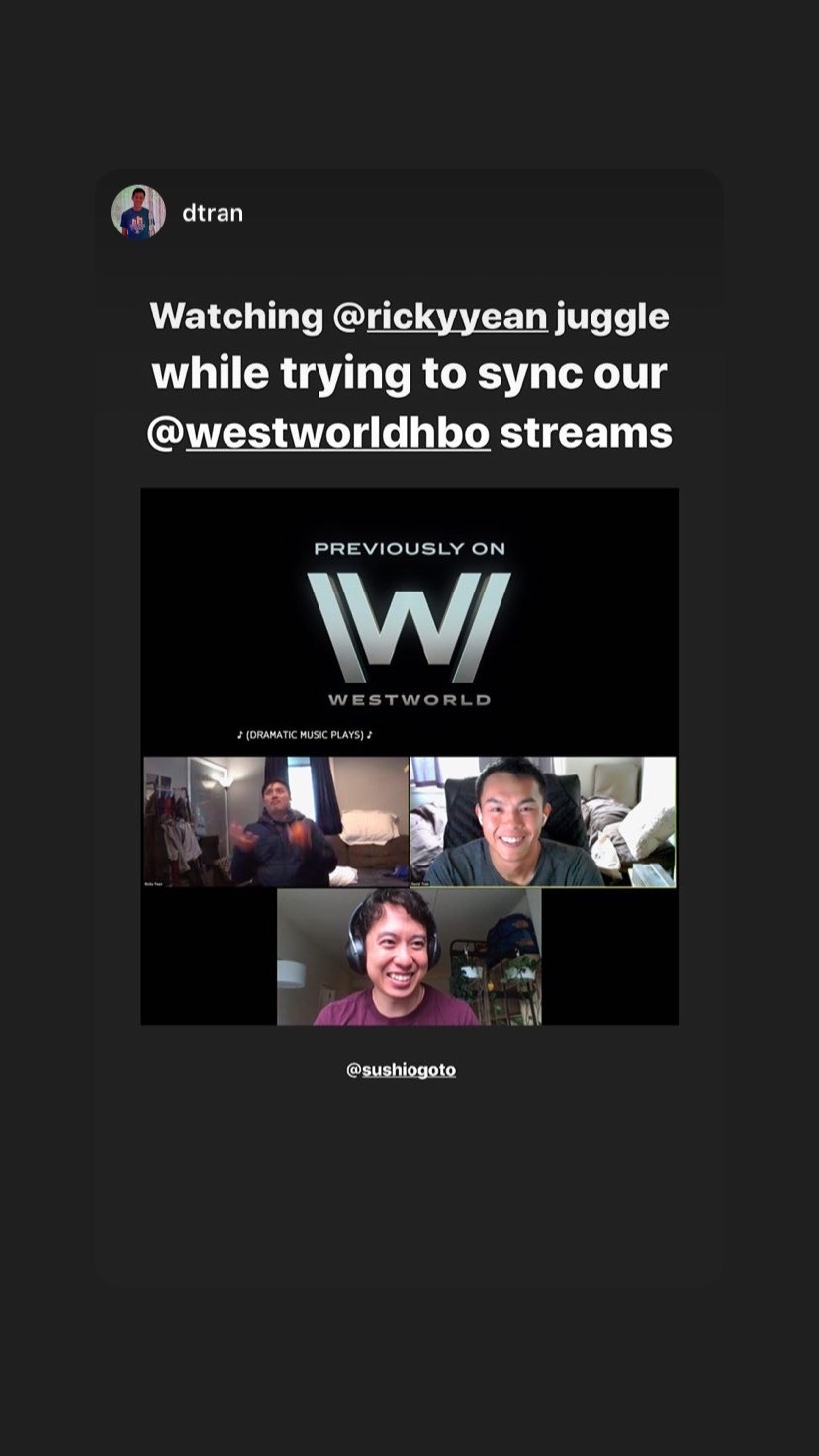 Thing on my mind:
Some Covid-19 thoughts:
#FlattenTheCurve

I have friends in town from Puerto Rico and Hong Kong. I'd love to see them while they're in town, but I probably won't be able to.

Tech Twitter and Facebook are pretty insufferable right now because it's all doom and gloom on there. I understand why…smart people who understand exponential growth and second-order effects feel the need to react to the people saying "it's just a flu," and so they choose to publish stern warnings, and stern warnings sound even more stern either in a Tweet or in a long-winded Fb post.

Work is definitely affected. Fortunately in tech we can just WFH, but WFH doesn't mean slacking off. We should do the opposite and be extra-disciplined to try to retain our humanity. 1) Don't fall to the level of "video chat behavior". If it's a 1:1 meeting, lean into the camera and pay attention. 2) Don't be late to meetings just because you can't control your home environment. 3) Don't let the F.U.D. (Fear Uncertainty Doubt) overwhelm you and render you useless.

As a Y Combinator alum I get to see a bunch of startups present during Alumni Demo Day. Today is Alumni Demo Day and there were no video presentations for any of the 250 companies in the batch (typically there's an event + recorded video). This makes me think YC is phoning it in and leaving the startups hanging, which is extremely disappointing.

On the brighter side, I'm seeing people experiment with new ways of hanging out online. I do a persistent Zoom call with some friends to co-work during the week. I saw a friend stream himself playing online party games and another running a virtual dating experiment. We have all the infrastructure we need (eg smart phones, high speed internet, Zoom, good audio input) but we haven't innovated on the social layer above that for quite a while because "social" has been synonymous with Facebook for too long. Covid-19 is showing us how we quickly we feel lonely as soon as we are prohibited from human contact and highlights how much room there is for more creativity. David and I are working on solving this problem.

I caught up with a friend in Hong Kong and he told me that almost everyone is back to normal. IG stories from friends in Taiwan also indicate lives are back to normal. Word is that Foxconn factories are back to work and productions levels are back to normal. It'll take longer for us here in the US because we suck, but we'll get there. Sending ❤️ to all of you out there. Stay in and stay healthy. Message me if you wanna catch up.
Piece of content I recommend:
I started watching "DAVE" on FX loosely based on the life of Lil Dicky, the rapper. Pretty cool if you like Lil Dicky and his shtick. This show is all of that essence turned into a comedy series.
—
As always, you can find out what I'm thinking in more real-time on Twitter and my essays are on my website. My latest essay is called "From Socialcam to TikTok: How we figured out video social in a decade"