This is where I share 3 things every week with my friends and anyone else interested.
—
A picture from my life:
Sharing two since I skipped a week.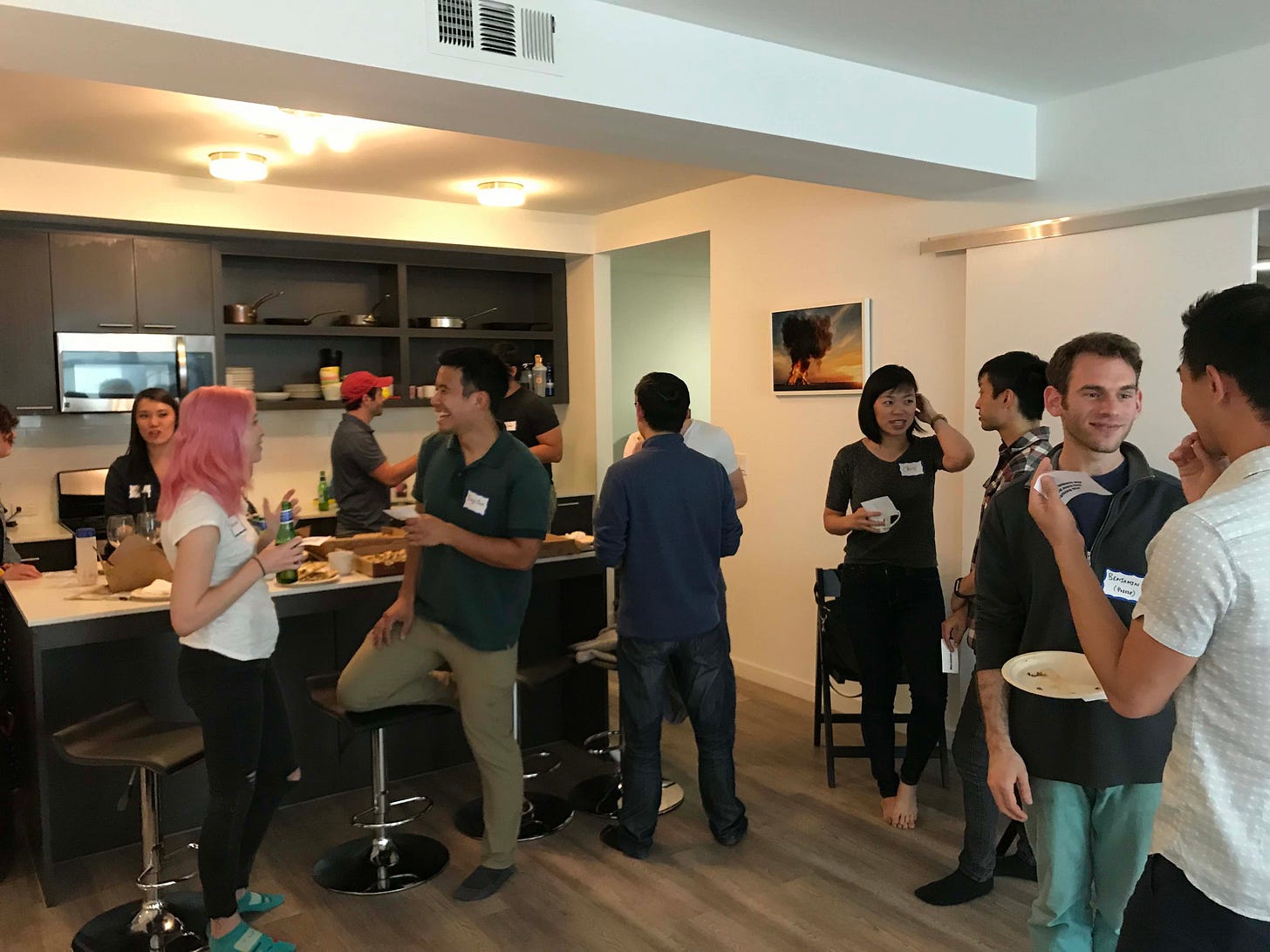 I organized another co-founder dating event. I have another one next week. I look forward to startup babies.
I performed sit-down comedy roast in honor of my dear friend George who passed away five years ago at a columbarium. It was one of the bigger audiences I've performed in front of but most of the audience was pretty dead.
Thing on my mind:
I help a lot of people all the time but I'm needing to remind myself to "get mine" first. Due to my personality and large network, I'm constantly in position to help others with mostly startup things but often with relationship and career advice as well (not sure why I'm qualified). I rarely question it because I enjoy helping and benefit from the relationships I build in the process. I'm also relatively conscientious, so if I promise to help, I put it on my to-do list and I am pretty good about doing them. So once in a while the sheer weight of other people's to-do's end up crushing me. I notice that I'd cross off to-dos for other people first before I cross off my own personal items, and I get mad at myself.
I mentioned this to a friend and he asked me, "do you feel comfortable making the same level of asks of your friends?" The answer is I don't. Is that because of the immigrant mentality? Of course I know how to ask for help and I do, but I want to practice asking for more, more frequently. I also feel like I need to learn to turn off the conscientiousness when it is not self-serving. I let small things like replying to text messages get to me when I shouldn't. I need to focus on my own agenda first.
Piece of content I recommend:
I'm halfway through Season 3 and I'm quitting by reading the Wikipedia to ruin the rest of the show, but it was great while it lasted. The writer Brian Koppelman did an awesome podcast with Marc Andreessen, hosts his own podcast and maintains a blog—signs of a man with a ton of creative output. Just from listening to his interviews you can tell that this guy makes great stuff, and indeed he does. The last TV writer that I felt this way about was Matthew Weiner of Mad Men.
Invite to Ricky's House chat:
I want to experiment with a Discord chat for my friends. I've been thinking about how we're increasingly under-served by social networks like Facebook, so I want try re-creating the feeling of being connected to all of you. Discord, for those of you not in tech, is structured group chat like Slack except free (and targeted towards gamers…which I'm not). If you want to visit Ricky's House, come with your invite here: https://discord.gg/XrHdJfV
—
As always, you can find out what I'm thinking in more real-time on Twitter and my essays are on my website. My latest essay is called "I got next!" — a personal #RequestForStartups.