This is where I share 3 things every week with my friends and anyone else interested.
—
A picture from my life:
This is Ari and Aman, two of the sixteen people on the epic Wefunder train journey with me. We went to see the marina in Miami yesterday before flying back home.
I just discovered the ultra wide camera on my iPhone 11 so I'm going to share a few more.
Here's a picture from Miami's Wynwood Art District.
This is a random house in Savannah, GA
Us walking to a Walgreens near French Quarter in NOLA
This is a building in NOLA's French Quarter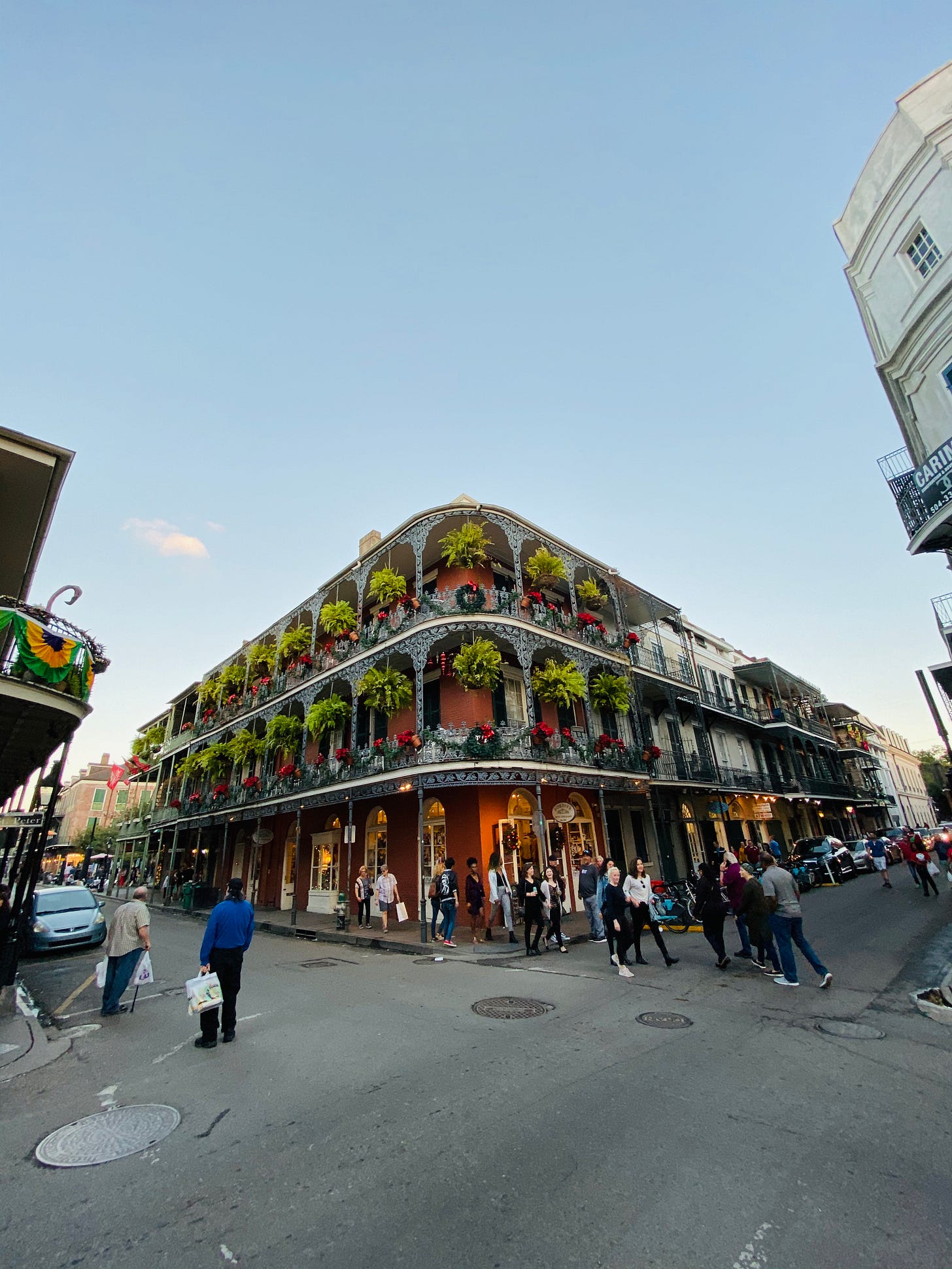 Thing on my mind:
I just got back from a nine-day train trip with Wefunder visiting entrepreneurs in seven different cities…so I'll tell you a little bit about it.
My impression of each city
Omaha, NE: The downtown area was bigger than I expected especially because I smelled cows as soon as walked out of the airport, but then I learned that Warren Buffet made a ton of people in Omaha filthy rich and thought to myself, "so where's all the money?"
Chicago, IL: Frustrated by the lack of progress in Bronzeville despite the valiant efforts of Bernard Loyd of Urban Juncture to revitalize the area.
Memphis, TN: Comfortable, clean, and well-organized city with lots of history, but relatively sleepy.
New Orleans, LA: Why haven't I been here before!? Opting out of Vegas for NOLA in the future because of the parties, music and food.
Atlanta, GA: WTF I thought I was done with the cold weather!
Savannah, GA: The architecture was even more gorgeous than what I saw in NOLA, but the town felt a little shallow. Where's the soul?
Miami, FL: Too spread out and trafficky like LA, but showed me how you can make LA way more walkable with amazing street art like the ones in the Wynwood Art District.
How was Amtrak?
I can totally do another 10-hour Amtrak trip and that's a big deal because if you know me you know I hate traveling. Amtrak was very comfortable as long as 1) you can tether to data on your computer and 2) your car is not too crammed. The seats recline pretty far and you have a ton of leg room. I spent a lot of time chilling in the cafe car or the lounge car just reading or using my laptop. The views were gorgeous and calming. The one overnight sleeper train we took was pretty comfortable as well.
Fun fact: Amtrak is close to profitability for the first time in its history, but it could also mean the elimination of the less popular routes that connect America.
How were the entrepreneurs?
Inspiring, but that's what I expected so no surprises there. What was surprising was how much the entrepreneurs I met leaned on their local entrepreneurship infrastructure. Back when I was at Stanford I was part of an entrepreneurship club that organized programs, events, and competitions to push students incrementally towards entrepreneurship, but since then startups have become popular and a lot of the knowledge that we have here in Silicon Valley has moved online and mainstream. Because of that I started to discount the impact of things like a university entrepreneurship club, but maybe I shouldn't have. Some examples of the entrepreneurship infrastructure I came across…
Community: Launch Pad Memphis & New Orleans, Propeller in New Orleans, Bronzeville Incubator, Atlanta's Bridge Community, Atlanta Center for Civic Innovation, Techstars Atlanta, Maven Makers in Savannah, LaunchGSU, Creighton Entrepreneurship Club, Big Muddy Urban Farm, local churches
Funding: Local angels (eg a doctor in Omaha), local celebrities (eg rapper T.I. in Atlanta), local entrepreneur heroes, foundation grants, government initiatives, community fundraisers, local corporate ventures (eg Cox Enterprises and Coca Cola in Atlanta), pitch competitions (eg PitchNOLA), diversity-focused venture funds (eg Cross Culture Ventures)
Regulation: Louisiana Angel Investor Tax Credit, Opportunity Zones, JOBS Act
Why were the entrepreneurs so reliant on local entrepreneurship infrastructure?
In Silicon Valley I have access to abundant resources because of phenomena like the The Social Subsidy of Angel Investing and because I'm an Asian guy who went to Stanford, working on venture-backable ideas. There's strong resource-founder-fit.
But if you're outside of the valley or you don't look like a white / Asian guy or you aren't working on venture-backable ideas, then…
You need to find a community because there's not enough density of entrepreneurs like you for you to bump into and learn from

Since only venture-backable startup knowledge is mapped relatively efficiently online, you need to go out of your way to find knowledge more applicable to your business

You need to take advantage of all funding opportunities because outside the typical venture funding for founders and businesses that fit the profile, funding sources are few and far between

As a local entrepreneurs, programs, accelerators, venture funds, and investors that explicitly target "people like you" make it easier for you to step into without requiring a bigger leap of faith

The flip-side is, if software is not core to your business or if you are black or female, you might look at Hacker News, Y Combinator or whatever valley VCs are saying on Twitter and immediately disqualify yourself

Even if you can access knowledge and resources, you can't vet them easily without other people you can learn from, and there's a lot of conflicting advice, mis-applied advice, and simply bad advice
I took pretty extensive notes and I'm still processing a lot of this so maybe I'll write more next week.
Other fun things I noticed
They bump Lil Wayne all the time in NOLA like we bump Snoop, Dr. Dre and 2Pac here in Cali. I love Weezy F Baby (he's from Hollygrove, NOLA)!

I knew about Smoothie King Arena in New Orleans, but I didn't know about Guaranteed Rate Field in Chicago. Guaranteed Rate Field should join Smoothie King Arena on this list of The 10 Worst Stadium Names in Sports.

Gas station convenience store names are fun. I saw "Hop-in" in Omaha and "People Pleaser" and "Parker's" in Georgia.
Piece of content I recommend:
Marriage Story on Netflix
A movie about the process of divorce. I love movies like these because they're real.
—
As always, you can find out what I'm thinking in more real-time on Twitter and my essays are on my website. My latest essay is called "Single-serving friends"